---
Denver Party Buses are

luxurious!

spacious!

upscale!
When it comes to luxury transportation, don't settle for less than Denver Party Bus. Our Denver party bus rentals are affordable and reliable. Give us a call to learn more about our Denver party bus service!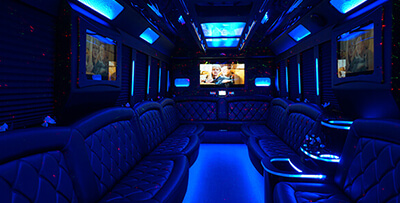 Ride in style and elegance while enjoying music and dancing on this Denver party bus. This is the perfect choice for any group who wants to have fun.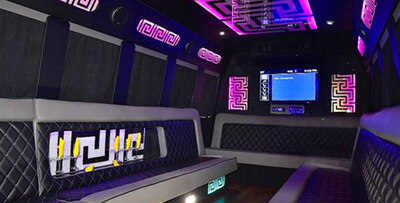 Heads will turn as you roll down the road in this Denver Party Buses option. The amenities are second to none, check it out and be prepared for fun.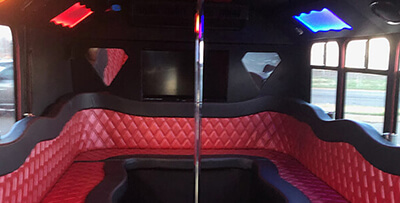 One of our most popular Denver party buses. This limo bus will astound with its sleek exterior and amazing features. This vehicle exudes class.
Are you looking for car service Denver, CO? Do you need a Denver Sprinter van rental? Maybe Denver limo service, or a Denver charter bus service. It doesn't matter; we have a transportation service for all your needs! Contact us for more information, we will be happy to hear from you.
Denver Party Bus
When you're seeking out Denver party bus rentals for a special event, you want best in the business, and you've found it! We're Denver's premier limo bus and party bus rental company. We provide reliable and affordable Denver party bus rentals for any and all events, and we do it with the very finest party buses in Denver.
Book a Denver limousine for your next group outing!
Offering the best Denver limo service
The Denver area offers so much in the way of attractions and that includes things to do inside and in the beautiful landscape that the area affords. Of course one of the things you'll want to explore is the scenic routes to take in the beauty of the Rocky Mountains. But in addition to this amazing nature, there is something for everyone to enjoy, from Union Station, the Denver Art Museum, Coors Field, the Denver Museum of Nature and Science and much more.
Whatever you'll be doing in Denver, Colorado, you need a great way to get around. Our Denver party bus transportation service is not only dependable and affordable, but we offer some of the best party buses on the road.
Find the Denver party bus that's right for you!
The entertainment features on our Denver party buses mean that the party never stops, from the moment you step on board to the moment that you are dropped off. Each custom built Denver party bus in our fleet has stunning interior with features like colorful LED lights, wood floors, dance poles, TVs, booming stereo systems, and coolers for your drinks. One look at our fleet and you'll see why Party Bus Denver is the best of the best.
Transportation service you can rely on
As you can see we have the best party buses, but that's not all! It's our amazing team that really makes us the most dependable and trusted Denver party bus rental company. We have a great team that keeps our vehicles sparkling clean and in tip-top shape, and our chauffeurs are the best in the business. Our drivers know the roads plus are equipped with GPS so you'll never get lost or be late!
The best customer service with your party bus service
When begin your journey to reserve our Denver party bus service, you'll speak with one of our amazing customer service reps. Our knowledgeable and courteous representatives are standing by 24 hours per day to assist you with whatever you need, whether it's more information about or company, a no-obligation price quote, or making a reservation.
Affordable Denver party bus rentals
You might think a Denver party bus rental is out of your budget, but that's not the case! We keep our completive prices as low as we can so that you can find luxury transportation to suit your needs on any budget! Pricing fluctuates based on the cost of operating, the size of the vehicle, and the date and time you rent. We do this so that when our operation costs go down so do your prices! To get an accurate price quote, just give us a call!
24 hour transportation services
Our services are available 24 hours per day. And that doesn't only refer to the availability of our custom service agents! That's right, our 24 hour operations include our bus rentals! We know that you want to enjoy your event on your own time, so no matter what you have planned or when you're planning it, we'll be there for you with the best party bus rental in Denver!
The best transportation for all your needs
If you are planning on visiting any of the exciting places Denver has, be sure we can take you there! We have vehicles available for round trips for large groups. Here are some of our services, but feel free to contact us and ask if you don't see the one you are interested in. We are sure we can help you!