---
Keystone Party Bus
Keystone, Colorado is a beautiful ski town in Summit County. Home to the beautiful Keystone Resort and Keystone Village, this area is stunning and is a great place to visit.
Keystone, Colorado limo rentals
When it comes to limo and party bus rentals in Keystone, we've got what you need. Our incredible fleet of party buses and limousines offers a wide variety so there's something to suit any taste and style. Our dedicated team works round the clock to bring you the best service. And our prices are the most affordable! There's no other limo company that can compete with what we offer at our price point. Customer satisfaction is our number one priority, so don't hesitate to reach out and let us know what you're looking for and what we can do for you!
Our fleet
Providing quality transportation services begins with the vehicles. We have a stunning fleet that we take great pride in! No matter what style you're looking for, we're sure to have a vehicle you'll love. Our entire fleet is custom built and kept in great condition, so you're always guaranteed a clean and working vehicle. Not only that, but they have plenty to offer on board!
Our Keystone limos and buses are all custom built so they're unique, beautiful, and packed full of great features. Our spacious vehicles have limousine-style seating, large TVs, DVD players, booming sound systems, CD players, USB port, Bluetooth audio, beverage coolers, and on some buses even dance poles! Whatever you have planned, you'll have a great time celebrating on one of our party buses or limousines.
This spacious bus has a gorgeous interior, dance pole, and flat screen TV.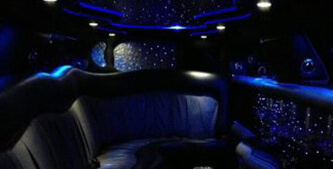 Chill a drink at the beverage bar and relax as you ride on this limousine!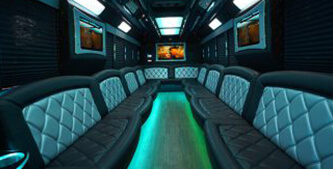 This spacious bus with room for up to 34 passengers has everything you need to celebrate!
Keystone limo service team
Even with our stunning fleet of limos and party buses, we wouldn't be able to provide the great service we do without our amazing team of people. We only hire the best, most dedicated professionals to bring you the best limo rental service possible.
Our dedicated team is here working round the clock for you. Our reservation specialists are here 24 hours per day to take your calls, answer your questions, and book your rentals. Looking to get a free quote? Call us any time and our agents will be happy to help! Also working round the clock is our maintenance crew. They inspect the vehicles before and after each rental to ensure they're ready for your party! And of course our chauffeurs are at the wheel to take you to your destination in style, no matter the time.
Why choose party bus service?
You get more bang for your buck when you choose our party bus and limousine services. With other types of services, you have to call for a ride each time you want to go somewhere new, wait for the ride, and pay each time. On top of that, if you have a large group, you'll need to order several cars. With our services, you not only get a vehicle that can fit your entire group, you have your chauffeured party bus at your service for the entire evening! It makes it much easier to get around town, and it's a much more fun way to travel!
Affordable limousine services
We believe that luxury transportation should come at a cost that doesn't break the bank. Whether you rent an intimate stretch limo for 8 passengers, or a spacious party bus for 40, you'll find our prices are the lowest in the region. We know that events and rentals are not one size fits all, so prices shouldn't be either! Our pricing is based on your event and what you need. The date, time, and size of vehicle are all factors that determine pricing. This way, we can ensure you get the best deal! Ready to get your free quote on an affordable Keystone party bus? Just give us a call! We can't wait to hear from you!