---
Beaver Creek Party Bus
Colorado's best limos and party buses
Reliable transportation
If you're looking for the best transportation company in Beaver Creek, CO, you've come to the right place. We provide luxury party bus and limousine service to Beaver Creek and surrounding cities. Our limousine services are second to none, with the finest fleet of vehicles, the most dedicated team, and the lowest prices! We service a wide area and offer a variety of transportation services. From our luxury party buses to our shuttle buses to our limos, each vehicle in our fleet is meticulously maintained and custom built to to ensure you and your entire group have a great trip! We also provide luxury car service. Whatever you need, we've got you covered.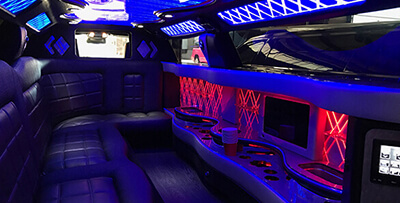 This stunning limo has a deluxe interior with vibrant lights, a spacious cooler, and TV with DVD player! Not to mention every hook up you need to play your favorite music via CD, phone, or iPod!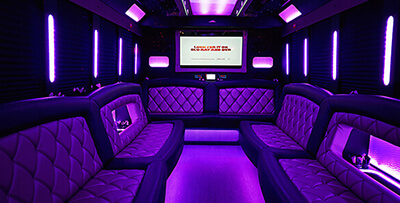 This spacious 28 passenger party bus offers comfortable accommodations, a stylish design, and a full multimedia package. Booming stereo, CD player, USB ports, TV and DVD are all on board.
One of the largest buses in our fleet, this massive 43 passenger limo bus is ready to take the biggest groups out in Beaver Creek! Pack in all of your closest friends or family and hit the town in style!
Why choose party bus service?
If you've ever planned an event or night out with a large group, you know that planning transportation on your own can be a hassle. How many designated drivers will you need? Will you have enough cars or drivers to accommodate everyone? If you're opting for taxis or ride shares, you still need enough cars to handle your whole group, and on top of waiting for them to arrive, there's no guarantee you'll find a ride at the same time. Not to mention every time you go to a new venue you have to pay for the ride again. When you have our party bus or limousine service for the night, none of these things are an issue.
When you rent luxury transportation from us, your chauffeur and your vehicle are at your service all night. That's right, a spacious party bus or limo that can fit all of your guests will be ready to take you wherever you need to go all night long! Your chauffeur will always be near the venue, so when you're ready to leave, give them a call and they'll pull right up and get your group to take you to your next destination. Have you made a spur-of-the-moment change to you itinerary to check out a new bar or restaurant? No problem! Your rental includes unlimited stops, so there's no paying per trip like with other transportation options. You get more bang for your buck when you opt for party bus or limo service.
Our team
Our dedicated team is here round the clock working to bring you the best party bus experience. Our customer service agents, our maintenance crew, and our drivers are all hard at work, 24 hours per day. You can call us at any time, 24/7 to ask questions, get a free quote, or book a rental. No matter what time you rent for, one of our crew will be here to check out the vehicle and make sure it's clean in great condition for you so you can enjoy all the fun features! And, of course, our professional chauffeurs will pick you up on time and guide you across the city!
Customer satisfaction is our ultimate goal, so if you have any questions or concerns, please don't hesitate to reach out to us, no matter the time! You can call or email us at any time and our agents will be happy to help! Keep reading or call now to learn more about us, our fleet, and the services we offer!
Beaver Creek Limo Features
Our custom built party buses have the most in demand features and amenities. Check out some of what you can expect to find on any of our limos or party buses below!

TVs and DVD players

USB ports

Bluetooth audio

Spacious seating

Booming stereos

Colorful lights

CD players

Drink coolers